UK Visa Sponsorship Jobs:
As an employer, you will likely need to acquire UK sponsorship for employers license if you are seeking to hire a worker from outside the UK, the European Economic Area (EEA), or Switzerland.
If your UK visa sponsorship jobs 2022 license is accepted, you will receive a license (with an A rating) valid for 4 years, which will allow you to issue certificates of sponsorship to foreign employees who are suitable.
This visa is, therefore, necessary for those seeking to provide work in the UK for foreigners, including those seeking a Work Permit UK.
Confirm on the eligibility of your business, in order to be able to apply for UK visa sponsorship jobs in 2022.
Select the kind of license you need (i.e. the kind of worker you are looking to sponsor).
Appoint people to manage the sponsorship process internally.
Apply and pay the associated fees online.
Employers looking to sponsor non-UK visa sponsorship jobs after January 2021 should be aware that a points-based UK immigration will go into effect on that date, thereby supplanting the current UK Visas and Immigration system.
Fundamental changes to employer sponsorship in the UK will also occur in the areas of salary threshold, fees, and skills requirements.
Whereas under the current UK visas and immigration sponsorship system, you only need a sponsor license if you are seeking to employ workers from outside of the EEA and Switzerland, under the new system, you will have to acquire a sponsorship license in order to employee citizens of EEA states as well as Switzerland.
You are determined to be reliable and in good legal standing by the UK Visas and Immigration (UKVI), which will make a decision based on your application, supplementary materials, and (in some cases) after conducting a visit to your place of business.
You possess the requisite established systems capable of monitoring the employees you sponsor.
If you have been convicted for certain crimes, particularly those which are unspent regarding immigration offences and for money laundering, fraud, and other crimes.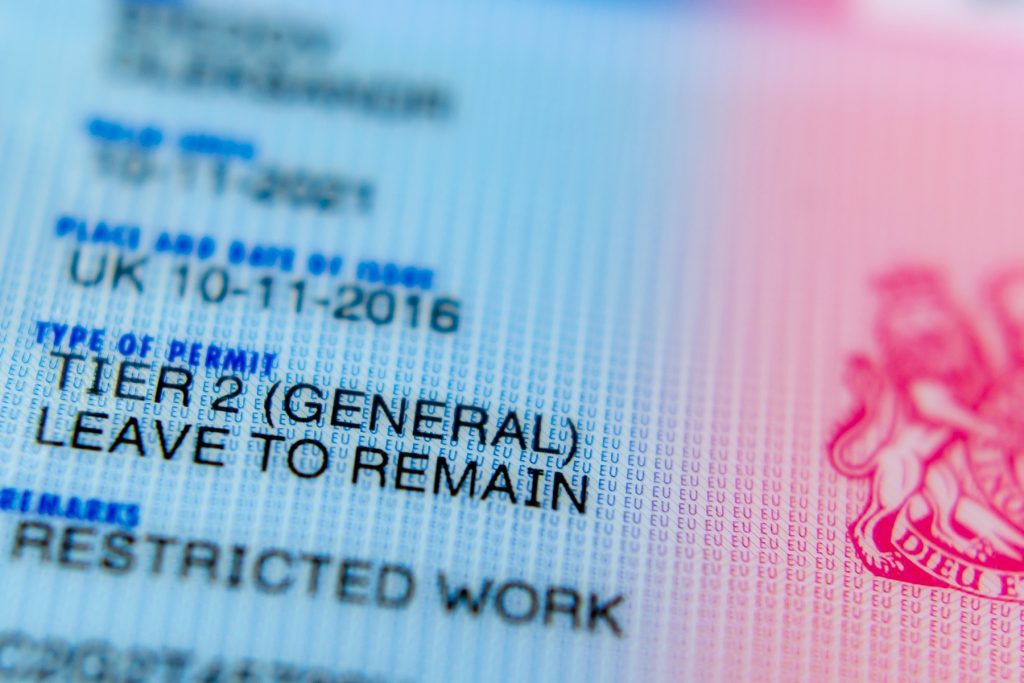 What are the Types of CoS?
Would-be employers can lodge an application for a license covering just one Tier or covering both Tier 1 and Tier 5. Within each of these two tiers are multiple sub-types, outlined below:
Tier 2: Skilled workers who have offers for long term jobs
General:

The position should satisfy the requirements for job suitability.

Intra-Company Transfer:

Needed for multinational companies seeking to transfer workers to the country.

Sportsperson:

Needed for top UK-based athletes and athletic figures (including coaches).

Ministry of Religion:

Needed for those seeking to remain in the UK for a period not exceeding 3 years as an employee of a religious organization.
Tier 5: Skilled workers who are temporary
Government Authorized Exchange:

Available to those engaged in up to 1 year of work experience, or up to two years of medical or scientific training (or other training or research projects); all to facilitate the diffusion of knowledge in a condensed period.

Religious Worker:

Needed for those engaged in up to 1 year of pastoral and non-pastoral work or and/or preaching.

Charity worker:

Needed for those are "employed" for up to 1 year without receiving a salary.

Creative and Sporting:

Needed for those who seek to work for up to 2 years as an artist or entertainer, or for up to 1 year as a sports person.

International Agreement:

Needed for those arriving in the UK in order to work in category of job contained within international law, such as workers who are employed on behalf of foreign governments.
Payment of Work Permit UK license fees will be requested during the work sponsorship in the UK application process.
 Prices of sponsorship for UK visa sponsorship jobs vary according to the type of license and the size of the sponsor.
Generally speaking, a medium or large sponsor (business) is one which employs over 50 annual people and whose annual turnover 10.2 million or more.
Tier 2
Cost for small or charitable sponsors: £536
Cost for medium or large sponsors: £1,476
Tier 5
Cost for small or charitable sponsors: £536
Cost for medium or large sponsors: £536
Tier 2 and Tier 5
Cost for small or charitable sponsors: £536
Cost for medium or large sponsors: £1,476
Add a Tier 2 to your Tier 5
Cost for small or charitable sponsors: Free
Cost for medium or large sponsors: £940
Add a Tier 5 to your Tier 2
Cost for small or charitable sponsors: Free
Cost for medium or large sponsors: Free
When you lodge a license application, you will have to appoint individuals internally who work in your business to oversee the sponsorship process.
These individuals will have access to the sponsorship management system (SMS) to aid them throughout this process.
There are multiple sponsorship management roles, which can be held by different people or the same person.
Sponsorship management roles are:

Authorizing officer:

A high-level capable person who oversees the actions of everyone who utilizes the SMS, including representatives and other staff members.

Key contact:

The person you designate as the point person for UK visa sponsorship jobs and Immigration (UKVI).

Level 1 user:

The person who oversees the daily management of the license via the SMS.

Level 2 user:

This is an optional role, which may be appointed after your license.
While this user will also have access to the SMS, his access will be limited (i.e. more restricted than that of a level 1).
Suitability checks for CoS Visa
Suitability checks will be performed on your employees (and you) in order to determine that you are "suitable" for your respective sponsorship management roles.
You and your employees must be UK-based for the majority of the year.
In general, all of your allocated staff should be paid officeholders or staff members.
You may not be approved for a license in the event that someone on your team in a sponsorship role (or a member of your allocated staff):

Received a fine from UKVI (within the last year).
Was the subject of a report to UKVI.
Received a criminal conviction (unspent).
Committed a crime.
Didn't pay an excise duty (including VAT).
Has a history of non-compliance with sponsor requirements.
Been identified as a key person at a sponsor that in the last year had its license revoked.
Been a contractor or consultant contracted out for a specific project.
Been subject to a bankruptcy restriction order or undertaking, or a debt relief restriction order or undertaking.
HR Contractors and Agency Staff
You should make sure to employee one (at minimum) level 1 person at your company.
You may also make use of the services extended by third-party organizations (who grant you with Human Resources services via contract) who employ level 1 or level 2 users.
When it comes to your level 2 user, he or she can be sent by the agency as an interim employee.
Additionally, you may wish to hire a UK based legal representatives to fulfill any and all of the sponsorship management roles, (with the exception of the role of the authorizing officer).
If you go this route, the representative selected by you must be certified to provide you with services and advice relating to immigration
If you are one of the following, you do not have to supply supporting documents:
A company listed on the London Stock Exchange.
Recognized by the UK government as a public body (such as a local authority).
For everyone else, receipt of correct documents (as either originals or certified copies) is necessary in order for the immigration authorities to determine that you are a legitimate business entity and correctly follow the process for UK visa sponsorship jobs:
list of supplemental documents.
Failure to supply these documents within your application could cast doubt on your legitimacy and jeopardize your application. Your application could also be refused if a mistake is made during the application process.
If you believe your application was rejected for either of the above reasons (and not simply because you resent its rejection) you may apply to correct a mistake with your application.
Certified copy (of a document)
Certification of a copy of an original document can be done by either the issuing authority, or a working solicitor, barrister, or notary.
It needs to include a declaration by the certifier stating that the document is in fact an authentic copy of the true document.
On each page of the document, the certifier must include his or her name and the name of the company he or she works for (if applicable) as well as his or her original signature.
So long as the certifier has viewed the original email message, he or she may certify printouts of documents contained within an email attachment.
To apply for UK work visa sponsorship you should:
Apply online for sponsorship for UK visa.
Print out the submission sheet.
Send the submission sheet and all supporting documents to it to the UK Visas and Immigration (UKVI) at the following address: 
Sponsor casework operations
Sponsor applications team
UK Visas and Immigration
PO Box 3468
Sheffield
S3 8WA
Immigration advice: further help and guidance
Those seeking additional support from license managers can make use of the premium customer service scheme, which is available at a yearly cost of £8,000.
For further help and guidance throughout UK work visa sponsorship, please contact the Sponsorship, employer and education helpline by calling: 0300 123 4699, Monday to Thursday, 10am to 3pm.
Alternatively, you may email:

[email protected]

, if you are a Tier 1 investor or a UK business.
"A" rating
What you will receive if your application is accepted
What will allow you to begin allocating certificates of sponsors
A-rated businesses are listed in the register of sponsors
"B" rating
What your rating will be downgraded to in the event that you fail to satisfy your sponsor duties.
B-rated businesses are barred from issuing new certificates of sponsorship
B-rated business may continue to issue certificates to employees who are already working for you, who seek to either switch from a Work Permit or extend their visa
Upgrading from a B-rating to an A-rating
If you are downgraded to a B-rating, you can upgrade back to an A-rating by successfully adhering to the action plan proscribed by UK Visas and Immigration (UKVI)
If you fail to successfully complete the steps as outlined within the action plan, you will lose your license
If, at the end of your first action plan, you receive another B rating, you will receive a new action plan (which you must pay for)
If, at the end of your second action plan, you receive yet another B-rating, your license will be cancelled
To summarize: if you receive more than two B-ratings over the 4-year license validity period, you will lose your license
The action plan fee is £1,476. You will lose your license unless you pay this fee within 10 working days of your being informed about the first downgrade from A to B by UKVI
If your license application for UK visa sponsorship for employers is rejected
There is no appeal for rejected license applications for sponsorship for UK visa
If your UK work visa sponsorship license application is rejected, your only recourse is to reapply
Please note, you cannot reapply right away after receiving your rejection for work sponsorship in UK. How long you must wait before reapplying for this Work Permit UK is based on the nature of your rejection, such as whether you lost your license due to hiring illegal employees (in which case you must wait a full year before reapplying for a new license)
Sponsorship certificates should be assigned to every foreign worker who works for you
Each certificate is electronic, and each has a specific number that an employee should enter during his or her visa application process
All certificates should be utilized no later than 3 months from the date they were given out
Unrestricted certificates
An unlimited amount of Tier 2 and Tier 5 certificates are available to you in the form of "unrestricted certificates"-so called because you must roughly calculate the number you will need during your application process
Although the number of unrestricted certificates available to you is theoretically unlimited, you should be ready to provide evidence justifying your estimation of the number you have requested
Restricted certificates
Unlike "unrestricted" certificates, which are unlimited, restricted certificates are only available in limited quantities
The number of restricted certificates you will be provided is based on a points system, which will be used to evaluate your application
Applications for restricted certificates for the below types of workers will be lodged through the sponsorship management system, which becomes available to all those who are approved for a license.
Restricted certificates are for the following:
Tier 2 (General) workers who are not in an inward investment post, who will receive under £159,600 in yearly salary, and who are currently out of the country.
Dependents (family members) of migrants who are switching to a Tier 2 visa from a Tier 4
Processing time for CoS certificates
Applications for certificates are assessed on the prescribed allocation date-the first weekday following the 10th day of the month
Depending on how much time is needed to go through your application, it may be held an extra month
Applications received on the 5th day of September, for example, will not be assessed until the weekday following the 10th day of October
On the allocation date, if your application is accepted, you will receive your restricted certificate in your SMS account, which you should then proscribe to a particular employee
On very rare occasions, such as for applications delayed for reasons that are not your fault, a restricted certificate may be given out prior to upcoming allocation date.
You may seek an urgent application through your SMS account. Urgent applications must be accompanied by an email to the

[email protected]

, which justifies the extraordinary nature of your request
Certificate fees
There is a fee associated with every certificate of sponsorship.
If you are a citizen of Turkey, Croatia, or Macedonia, you are exempt from paying a certificate of sponsorship fee.
o Fees:
» Tier 2- £199
» Tier 5 – £21
Immigration skills charge
An employee who is seeking a visa to work in the country for a minimum of 6 months on a Tier 2 (Intra-company transfer) or a Tier 2 (General) visa who is given a certificate of sponsorship may also be subject to an immigration skills charge
You will be charged the immigration skills fee even if the worker lodges a visa application from inside the country, regardless of whether they are applying for a period under 6 months
You do not need to pay the immigration skills charge for workers employed via a PhD-level standard occupational classification (SOC), and for sponsored workers on the following visas:

Tier 2 (Intra-company Transfer) Graduate Trainee

Tier 4 (Student) who is switching to a Tier 2 (General)
Immigration skills charge (fees)
The amount you pay will be determined by the SMS and will be based on the size of your organization and the amount of time the employee will be at his or her job, calculated by the start date and end date revealed on his or her certificate of sponsorship
If your employee plans on remaining in the country for under 1 year but over 6 months, you will be charged for a minimum of a year
All charges must be paid together and at once
First year:
Small or Charitable sponsors: £364
Medium or large sponsors: £1000
Each additional 6 months
Small or Charitable sponsors: £182
Medium or large sponsors: £500
Please note, worker sponsorships are limited to 5 years
For small/charitable sponsors, the maximum amount of fees accrued from immigration skills charges would be £1,820 (at a cost of £364 per year for 5 years)
For medium/large sponsors, the maximum amount of fees accrued from immigration skills charges would be £5000 (at a cost of £1000 a year for 5 years
Your employee's visa application will be rejected in the event that you fail to remit payment (or remit the wrong amount) within 10 working days of being contacted and informed of your error by UK Visas and Immigration (UKVI)
Remitting payment
Payment for the immigration skills charge should be remitted once the worker receives his or her certificate of sponsorship.
Refunds:
A complete refund is available to those whose worker's application for a visa is:
Or:
The worker ultimately does not end up working for you even though their application is successful.
A partial refund is available to those whose worker:

Receives a visa with less time that the amount you sponsored them for.
Switches to another sponsor after he or she beings working for you.
Stops working prior to the end date specified on their certificate of sponsor.
Processing time for refunds
The general processing time for refunds is 90 days from:

The expiration date on your employee's sponsorship certificate (only if they declined to use it on their visa application).

When you informed UKVI of your employee's failure to come into work.

The date your employee's application for a visa was withdrawn or rejected.

Your employee can request an administrative review (an official review of the decision) the event that his or her visa application is rejected.
If 90 days go by without the employee requesting an administrative review (the timeline for an administrative review request) you will be refunded.
If the employee requests a review but his or review is rejected, you will be refunded (within 90 days of the rejection).
If 90 days have passed and you have yet to receive your refund, please contact UKVI, here.
Job suitability
If the worker is intending to do a job with a suitable rate of pay and skill level, you can sponsor that worker.
The job will probably have to be a Regulated Qualifications Framework (RQF) level 6 or higher in the event the worker you intend to sponsor has either a Tier 2 (Intra-company Transfer) or a Tier 2 (General) visa.
Create jobs
Workers who fall into one of the following "creative" categories receive skill levels as well as pay rates:
Film and TV workers.
Film and TV performers.
Theater and opera performers.
Ballet dancers and other kinds of dancers.
Advertising the job
If the job you are trying to fill is absent from the shortage occupation list, you will likely have to advertise for it, in a process known as the "resident labour market test".
To successfully engage in this process, you should submit 2 advertisements.
The purpose of placing the advertisements is to sincerely establish that there are no workers residing in the UK who are available to do the job, and that you therefore must hire from outside the country.
The job must be advertised for a minimum of 28 days, in the country.
The advertisement period can be continuous or broken into 2 periods. Regardless, the amount of time you advertise for must be for a total of 28 days minimum, with neither period being under a week.
In order to have successfully conducted a "resident labour market test" you must therefore credible prove that you were unable to find a viable prospect in the UK.
For more information and guidance, you should adhere to the guidelines in the "How to carry out the resident labour market test" section of the guidance for sponsors.
Only workers in the below categories are eligible for advertisement:

Tier 2 (General).
Tier 2 (Minister of Religion) or Tier 5 (Religious Workers) except if it is a non-essential position or is a nun or monk (i.e. necessitates being part of a religious order).
Tier 5 (Creative and Sporting) If you can credibly why the job must be filled by a non-settled worker it doesn't have to be in the creative and entertainment sector. Otherwise it must be in that sector.
Non-UK workers who are less than 18 years of age are ineligible for sponsorship under the following visas:

Tier 5 (Youth Mobility Scheme).
Tier 5 (Temporary Worker – International Agreement) specifically if they intend to work as a household servant in a diplomatic residence or in the personal employ of someone who works for an international organization.

Please note, persons under 16 years old are ineligible for sponsorship under a Tier 2 visa.
Your responsibilities:
Your license could be downgraded, suspended, or withdrawn in the event that you do not meet the following sponsorship responsibilities:
Perform due diligence in order to conclusively establish (and collect and maintain documentary evidence of the fact) that your non-UK employees possesses the requisite skillset, expertise, and formal authority to perform the roles they were hired for.
Give certificates of sponsorship only to employees in the event that the job is suitable for sponsorship.
Inform UK Visas and Immigration (UKVI) in the event that any of your sponsored workers fail to comply with the conditions of their particular visa.
Monitoring employees
Keep track of the immigration status of your workers.
Maintain easily accessible copies of required documents for all your workers (such as right to work and passport information).
Assemble and update personal contact information for each worker.
Monitor and take note of your workers' attendance on the job.
Inform UK Visas and Immigration (UKVI) in the event that something goes wrong regarding any of your sponsored workers, such as a consistent lack of attendance.
Changes to your business
UKVI need to be informed by you of any substantial changes to your particular professional circumstances within 20 days of their occurrence. These include:

If your business halts trading or enters insolvency.
If the nature of the work that you do fundamentally changes.
In the event of a merger or take-over.
If your address, allocated roles, or other personal details change.
Changes to your business should be reported through the SMS.
It can take as long as 18 weeks for a change to be processed.
An expediated priority service is available, which allows a change to be registered within 5 days, at a cost of £200.
Responsibilities for non-adults
In the event that you are sponsoring a non-UK worker who is less than 18 years of age, you must fulfill certain care responsibilities related to their:

Travel to the UK.
Entry to the UK.
Living in the UK.

In addition, the parents of the young person under your sponsorship for UK visa sponsoring must consent to every aspect of the care responsibilities. This consent should be formally expressed in a letter.
Your license will be cancelled in the event that you fail to obtain a Disclosure and Barring Service check on employees of yours who require it.
Children under 16 years of age: Please note, you will have to obtain a license from the education authority located wherever the under-16-year-old is working.
FAQs about UK visa sponsorship jobs
How to sponsor a work visa to UK?

UK companies who are looking to sponsor a would-be employee from outside the UK can follow these steps: 1) Determine that their company meets the eligibility requirements for sponsorship: Only companies which have applied for a sponsorship license are eligible to sponsor foreign workers. You can apply for your license on behalf of your business online, through the UK Visas and Immigration services—UKVIS 2) Determine that the position you wish to fill with a foreign worker is eligible for being sponsored: There are numerous different sponsorship categories which a potential employee can fall under, each of which pertains to a specific visa, and each of which has certain eligibility requirements pertaining to skillset and salary. Some of the most common sponsorship categories include Health Care worker, Skilled worker, and Season Worker. For example, if you are looking to sponsor someone who falls under the skilled worker category, you will need to make sure that your company is offering your potential employee a salary commensurate with the Skilled Worker salary requirements. 3) Select your license category: licenses are available in two categories: Temporary Worker and Worker. Employers seeking to hire temporary workers should apply for a Temporary Worker license; hires for longer term positions should seek the Worker license. 4) Choose someone within your company to assume control over your sponsorship: This is the person within the company whom you designate to oversee the sponsorship process via the Sponsorship Management System (SMS) tool. 5) Access and submit your sponsorship application: Apply and submit your application for sponsorship for sponsorship online. This involves using the online application system to upload your required documents and materials and fill out the provided electronic forms 6) Pay your sponsorship fees: all companies must pay a fee to sponsor an employee: the amount your company pays is determined by the category of license they are applying for. For example, the price for a Worker license category is £1,476 for most companies. 7) Await your application results. 
Are UK companies willing to sponsor visa?

UK companies are absolutely willing to sponsor foreign workers who require a visa. The majority of foreigners working in the UK today are in the country on some sort of Work visa. Even after Brexit, foreign workers remain a vital part of the UK economy. UK companies in need of workers who have certain skillsets or meet otherwise desired criteria are always willing to sponsor the visas of foreign workers in order to fill these essential positions. UK companies therefore sponsor millions of workers from around the world, including the EU. Being sponsored by a UK company is one of the main avenues that foreigners—especially foreign workers—achieve UK immigration. 
How to find sponsored jobs in UK?

Foreigners looking to find a sponsored job in the United Kingdom should look online at various jobs sites, which advertise available positions at UK companies. Jobs websites often highlight UK jobs offering sponsorship for foreign employers, meaning that you will be able to filter your search for UK jobs offering sponsorship, weeding out those which do not. 
More info
The above section is for UK employers. For those looking for work in UK for foreigners, including foreigners seeking a work visa London, or a general work permit UK, contact us.