Renting in the uk as a foreigner: If you are thinking about immigrating to the UK for the purpose of study, work, or personal reasons, you will likely be wondering, "How does housing work in the UK?" Today's blog will therefore examine the topic of housing in Britain, with a focus on renting in the UK as a foreigner and UK house prices. If you are interested in renting a home, you will find information about the rental process and rules, including answers to commonly asked questions like, "What documents do you need to rent in UK?" If you are interested in buying a home in the UK, you can find information about the average house price in UK, as well as the steps for buying a house in the UK. Finally, learn about the types of houses in the UK available for both purchase and rent. 
How does housing work in the UK?
Housing in the UK functions the same as in many places around the world; homes are available for purchase and for rent, for a fee. Of course, in almost all cases, renting in the UK is less expensive than purchasing a home. In both cases, available homes for rent and purchase are displayed on real estate websites. Most people find and ultimately purchase and rent homes by browsing online real-estate websites, or hiring a real estate broker to help them find the perfect fit.
Housing is most expensive in major cities (especially London, the UK capital) and in suburbs of major cities. Most people in major UK cities live in small apartments, due to the high cost of multi-bedroom apartments. Outside of major cities, especially in rural areas, large homes can be very inexpensive. If you have a large family and require a lot of space, you may find it in your interest to live outside of the city, where you can pay less for more rooms.
If you purchase a house in the UK, you will have to pay taxes on it. The rate of this tax varies throughout the UK. In contrast, renters are not taxed.
At the moment, those looking to purchase a house (or land) in England and Northern Ireland will not be subject to the Stamp Tax on any property with a purchase price of less than £500,000 (usually, the Stamp Tax is levied on properties costing £125,000). The current Stamp Tax rate (which only applies to properties costing £500,000) will continue until the end of June, at which time the government will begin applying the Stamp Tax to properties selling for £250,000 (ultimately, the tax will again apply to any property worth £125,000, but not until late September). The percentage you must pay toward the Stamp Tax varies according to factors such as whether you are a resident of the UK, whether it's a home (vs a business property) and whether this is the first property you have purchased in the country.
Please note that those purchasing homes or land in Wales and Scotland will be subject to different taxes, the Land Transaction Tax and the Land and Buildings Transaction tax, respectively.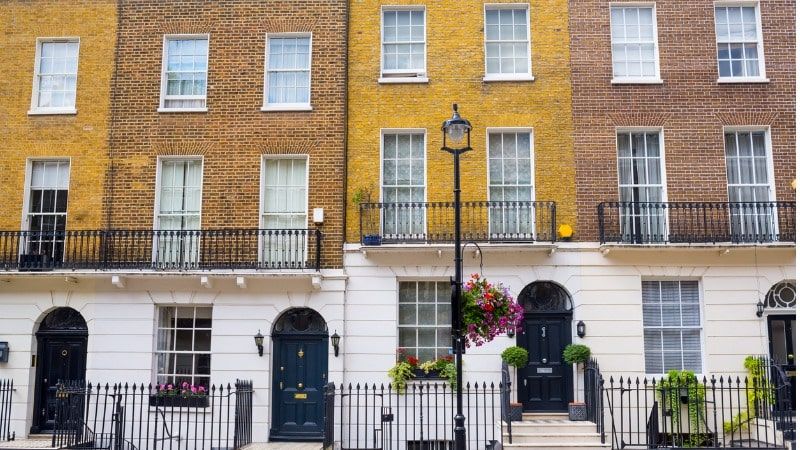 Types of houses in the UK
There are a number of different types of houses available in the UK. The majority of homes available in urban areas are apartments (called "flats" in the UK) which can be as small as one room (a studio) or multi-room (1-bedroom, 2-bedroom, 3-bedroom, etc.). Outside of cities there are small and large homes available to both rent and purchase.
Other home types include mobile homes, houseboats.
Because the UK is an old country, much of the homes and apartments throughout it are old (pre-war). It is quite common to find apartments/homes for sale from the 1600s or even earlier (particularly in London and the countryside). These "historic" properties are often coveted for their beauty and charm (they are often quite expensive, despite being old); if you rent or purchase one, you may be subject to restrictions on how you can renovate it (in keeping with regional historic preservation laws).
Of course, there are lots of modern and apartments and homes available for purchase and rent, especially in newer towns and cities throughout the UK.
Students at UK universities (including foreigners) can often take advantage of reduced student housing (available both on-campus or off).
Finally, homes available for purchase in the UK can generally be divided into two categories "freehold and leasehold." If you purchase a property that is Freeheld, you will own it—full stop. Alternatively, if you purchase a leasehold property you will only own it (and be able to live in it) for as long as your purchase agreement entails.
Average house price in UK
Of course, UK house prices vary within and across the UK. Regardless of which country you choose to live in (England, Scotland, Wales, Northern Ireland) the prices will likely be higher in urban areas than in small towns (which will themselves be priced lower than homes in rural areas).
London is home to the most expensive real estate in the UK (and in the entire world). According to most recent estimates, the average price of a home in London is around £640,000—around $940,491 USD (compare London rates to those in Edenborough, Scotland, where the average price of home £274,972—$388,177 USD).
However, prices in London may decline as a result of Brexit (as reflected in the most recent UK housing data, in which prices in London have been growing at a lower rate than in previous years, and also as a result of the current coronavirus pandemic, which has seen many city goers exchange their cramped apartments for more spacious country dwellings in less crowded towns throughout England).
Collectively, the average price of a house in the UK is around £333,000. Out of all the countries in the UK, Wales has experienced the largest jump in average home prices recently (the current average for Welsh homes is £199,113—around $280,000 USD.
Renting in the UK as a foreigner
Foreigners looking to rent properties in the UK should be aware of national average for rental: £600-per month. This is well below the average price of a rental in London: £1,572 per month. Of course, prices increase in central London—for example, the average price of a one-bedroom flat in the Chelsea and Kensington boroughs is £2,062. The UK government suggests that renters spend 35% of their salary on their rent, so keep these prices in mind. 
Most foreigners who immigrate to the UK for temporary reasons (such as to attend university or work at certain jobs) decide to rent in the country. The Rental process and rules for foreigners is slightly different than it is for UK citizens and residents. 
The process for finding a rental is the same for foreigners as it is for residents. You can browse homes for rent on various UK real estate websites, or contact a licensed letter agent (real estate broker) directly to help you find a place. As an alternate route, you can go directly to a reputable landlord (i.e. one who belongs to an "accreditation scheme)" by going through your local council authority. 
Please note that unlike in many other countries, in the UK, rental costs are advertised as "price per week" verses "price per month." 
Tenancy lengths are you usually six months to one year. 
You can visit the apartment/house you are looking to rent before you make a decision, to make sure that it looks the same in person as it does online. When you find an apartment, you will sign a written tenancy agreement with the landlord. 
Your landlord will need to confirm your immigration status and that you have the "right to rent" in the UK (in theory, all landlords should perform the right to rent check against all would-be tenants, including citizens). 
Perhaps the most frequently asked question foreigners ask is, "What documents do you need to rent in UK?" As a non-citizen, you will have to submit documents confirming both your "right to rent" and your right to live in the UK. You will not be able to sign 
Right to rent documents that you can submit as a foreigner to rent for an unlimited period are included below:

A UK driver's license.
A letter from a UK university. 
Letter from UK gov or dependent local authority. 

Documents which can be submitted as proof of an applicant's "time-limited" ability to rent (you will likely have to submit one of these if you lack indefinite leave to remain in the UK, or another form of permanent settlement): 

Passport. 
Biometric information document (such as your UK biometric residence card).
Residence card.
UK immigration status card.

In addition the above documents, you will also likely have to submit financial documents indicating that you are employed or have a certain amount of money in your bank account (these will likely include pay stubs, bank account information, etc). In addition, you may be able asked to secure a "guarantor" (i.e. someone who will guarantee that they will pay your rent in the event that you default). 
As a renter, you will likely have to pay a deposit on your property. Under British law, this amount cannot exceed 5 weeks rent (if the total rent on your property is less than £50,000 for the year) (if you are paying more than £50,000 a year, your landlord can request up to 6 weeks rent as a deposit). 
Steps for buying a house in the UK
The process for buying a home in the UK as a foreign is largely the same as for UK residents, with some slight differences in terms of the documents you need to provide. 
Once you have found a property (usually through a real-estate agency), you will likely apply for a mortgage (whether you receive one will depend on your credit, among other factors including your salary and total assets relative to the value of the property you are purchasing). Keep in mind that it is often more difficult to obtain a mortgage as a foreigner (especially if you do not intend to reside in the UK) than as a British citizen. 
When purchasing a home, you will likely face ID checks from a variety of sources (including your mortgage broker). Documents you may submit as evidence of your identity include your passport and driver's license. 
Proof of address (i.e. evidence that you live where you say you do) can include bank statements, driver's license, and a recent utility bill). 
In addition, you must submit evidence that you can afford the property you seek to purchase (these will likely include pay stubs from the prior three months, a tax return, and various documents from your employer (usually a p60 form). 
Keep in mind that home purchasers are subject to a number of fees separate from the cost of the property (such as the aforementioned Stamp Tax, a reservation fee, and a deposit fee). 
FAQs about Housing in the UK (renting in the UK as a foreigner)
How to rent a house in UK from abroad?

Renting in the United Kingdom as a foreigner who is living abroad is relatively easy, given that most available properties are advertised online, through real-estate websites. These websites can be accessed from anywhere in the world where there is an active internet connection. If you are looking to rent a property in either Scotland, England, Northern Ireland, or Wales, you may start by either browsing property online, or engaging the services of a UK real-estate broker/firm (in the UK this is known as a letting agency). Your agent will help you sort out the paperwork required to pursue property renting in the country. As a foreigner (especially one who is based abroad) you will need to submit certain documents (financial and personal) attesting to your ability to afford your property, and proving your immigration status. 
Can foreigners rent property in UK?

Yes, foreigners can absolutely rent apartments, houses, and other types of property in England, Scotland, Northern Ireland, and Wales (the U.K.). Most foreigners, especially those who are temporarily in the country for school or work, decide to rent—rather than buy—property in the country. However, only foreigners who are in the country lawfully are eligible to rent property. If you decide to pursue renting as a foreigner, the person who you are renting from (landlord or rental agency) will need to confirm that you possess "the right to rent." This is dependent on your "right to live in the UK," and will involve checking your immigration status. 
Can you rent in the UK without a visa?

You can rent property in the UK provided you are in the country lawfully, under the terms of your immigration status. If you require a visa to be in the UK, and you do not have one, you will likely not be able to rent property in the country until you gain lawful status. For example, if you possess only a short-term visa to the UK, and you wish to commit to a long term lease (such as a two year leasing period) you may be unable to do so (without further pursuit—and evidence of—your ability to lawfully remain in the country for at least two years). If you are intending to rent a property but not actually live in it (i.e. you are renting the property for a relative who intends to live there) the person who will be the rental's primary resident will also need his or her immigration status checked.